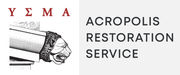 The meeting will take place at the Auditorium of the Acropolis Museum (with the physical presence of a limited number of participants) and online through the website https://www.ysma7thmeeting.gr/.
To participate in the Meeting, either with physical presence at the Acropolis Museum, or online, an online registration is required for which the participants must use the email address to which the invitation was sent.
Only the participants who have received an invitation to participate in the Meeting can register to the Meeting, while no registration is required for live-stream watching. All registered participants for online participation can submit written questions on the 1st and 2nd day of the Meeting through the website. Moreover, they can apply for a short intervention in the discussion on the 3rd day.
Participants who will attend the Meeting in person at the Acropolis Museum must have completed their online registration before arriving at the Meeting venue and must carry with them the QR code (in print or digital form) they received upon registration.
The languages of the Meeting are Greek and English. There will be simultaneous interpretation from one language to another during the Meeting.