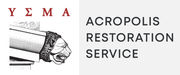 A. USEFUL INFORMATION – COVID-19 GUIDELINES AND PROTOCOLS
For your entrance to the Auditorium of the Acropolis Museum for the 7th International Meeting for the Restoration Works on the Acropolis you will need to present one of the following documents and a photo ID (identification card or passport):
• Vaccination certificate valid at least 14 days
• Medical certificate of a COVID19 infection valid up to 6 months
Printed certificates must be shown at the secretarial desk at the entrance of the Amphitheatre.
For security reasons, the Meeting will operate with a controlled number of visitors observing all health protection measures.
B. Protocol for Arrivals in Greece and travel guidelines
Please go through the below mentioned official link for the latest valid COVID-19 protocol regarding the traveling guidelines to Greece.
Please be aware that the official Protocol and Guidelines are subject to frequent changes.