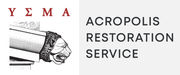 3 Nov 2021
The number of participants who are allowed to attend the Meeting in person, according to the health protocols in force, has already been reached
To participate, in person or online, ALL THE PARTICIPANTS should previously register online. For the registration the participants must use the email address to which the invitation to the Meeting has been send.
To register, click the REGISTER button
After completing the online registration, one can participate by clicking the Online Registered Participants button.
ATTENTION: The participants who will attend the Meeting in person, should have completed their registration before their arrival to the Meeting's venue, and should carry with them the QR code (in print or digital form) they have received upon registration.
For live-sream watching of the Meeting please press the Watch on Youtube button or go to the Acropolis Restoration Service channel on Youtube. (No previous online registration is required).